[ad_1]

To be in lockstep with Google's algorithms, SEOs are now working with other teams to accomplish their goals, whether it's user experience (UX), development, media or something else. This process is what's referred to as "SEO democratization."
With the increased emphasis that Google and other search engines are placing on high-quality user experience when ranking sites, it's essential to realize the scales are leaning more towards UX.
Correctly implemented, democratization can transform the effectiveness of an organization's SEO and growth marketing strategies. Democratization lowers costs, streamlines workflows, and achieves measurable, definite outcomes in ways that aren't possible with "legacy" approaches. 
If you're wondering what SEO democratization means and how it might be useful for your company, this post covers all the essential points. We define the term "SEO democratization," answer why it's important, and outline practical tips for democratizing your SEO department. 
What Is SEO Democratization?
SEO Democratization refers to the transformation of SEO into a company-wide and department-spanning discipline. This is in comparison to the traditional role of SEO as a discrete activity that had little relation to other operations within a business. 
In the past, an organization's SEO team was usually self-contained and largely concerned with making technical changes to a website. Even disciplines with overlap were usually handled within the confines of the SEO department (such as link-building that required marketing outreach or content creation). 
In the modern day, however, SEO needs input from other departments. This is because search engines are increasingly taking a holistic approach to evaluating the quality and relevance of a website. For example, Google has clearly stated that it takes a variety of factors into account—content quality, user experience, brand mentions, technical on-page structure, and more—as exemplified in web admin tools like Page Experience and Core Web Vitals reports.
Why Is SEO Democratization Important?
Democratization is important because modern SEO needs to leverage multiple and distinct skill sets to be effective. Specifically, the inputs of numerous departments are required to create high-quality content, delivered in the context of a rewarding customer experience, that fulfills extensive on-page technical criteria (yep, it's a mouthful). 
Let's take a relatively straightforward example of content creation. What does it take to publish a video on a company blog? 
Developers ensure the video software is in place, content creators brainstorm and execute original content, branding experts check that the tone aligns with the company's mission, and sales and marketing create calls to action and guide viewers through the appropriate funnel. Finally, SEOs ensure all on-page and off-page considerations are taken into account. 
It is impossible for one department to handle all of these tasks; collaboration is essential in a world that demands a multidisciplinary approach. 
It's also worth clarifying that technical SEO is still vital. Canonical tags need setting. 404s need fixing. Keywords need to be included in content. But SEO as a field has grown in its scope. As a result, many SEO professionals see themselves as more akin to growth marketers. 
How to Successfully Democratize Your SEO Activities
Follow the five steps below to create an integrated, democratized SEO strategy that leverages the multitude of abilities and skill sets in your company:
1. Create Clear Scopes of Responsibilities, Goals and Key Performance Indicators (KPIs)
If SEO processes are to be distributed effectively, tasks must be clearly defined on a department-by-department basis. 
It's crucial to recognize that the SEO department is responsible for implementing an overarching infrastructure to ensure performance is tracked, waste is limited, and best practices are maintained. In addition, its critical teams are aligned on the bigger goals for the projects.  For example, with Brightedge, a common broad metric is Share of Voice against a specific type of search.  Teams can measure progress against this metric to gauge whether or not their efforts are helping them achieve visibility for a specific mindset. 
All-in-one enterprise SEO platforms like BrightEdge are instrumental in this regard. They provide a central and accessible platform where SEO-specific workflows and data can be shared and delegated.
In addition, project management tools are essential for creating a collaborative space that is available on a daily basis. If your organization uses software such as Zendesk, Jira, Wrike, Trello, Asana and Monday, BrightEdge provides a shortcut for assigning SEO tasks. As long as email-based task creation is supported, you can send assignments from the BrightEdge platform to your internal project management system.
2. Create an Integrated Tech Stack to Streamline SEO
An accessible and integrated tech stack means that non-SEOs can interact with, and share data between, platforms without the need for technical SEO knowledge.
For example, content marketers will benefit from a content management system (CMS) like WordPress that is pre-configured with the correct technical on-page SEO. Similarly, user experience developers can leverage conversion data from an SEO tracking platform. 
The role of all-in-one SEO platforms is worth restating. For example, BrightEdge offers a suite of tools that empower multiple departments with different proficiencies to participate in the company's SEO efforts. Moreover, this often occurs in granular and highly specialized ways. Content creators leverage intent signals, technical teams track Content IQ to manage site health, marketers implement data-based insights, and executives and managers monitor dashboards to see how work is progressing across the company. 
3. Ensure Centralized Governance and Appoint Multi-Disciplinary Project Managers
SEO managers that understand different specialties and departmental processes should be responsible for coordinating professionals. Management should occur within the context of clearly defined processes, areas of delegation, and targets (as explained in step one). 
Establishing oversight and governance is a balancing act between micromanaging independent teams and allowing for complete creative freedom. Both extremes should be avoided. 
Regular meetings are essential for maintaining shared goals and keeping people on track when pursuing department-spanning objectives and KPIs. 
To ensure SEO is effectively democratized, many successful programs leverage scorecards with top level KPIs as guides. All-in-one solutions such as Brightedge enable teams to tailor dashboards to support these meetings. This minimizes manual work and creates a single source of information for teams to operate from. 
4. Provide Basic SEO Training to All Departments
Ensuring that different departments are versed in basic SEO can be instrumental in avoiding confusion and surmounting easily avoidable technical obstacles. Individuals in non-SEO departments don't require expert-level know-how, but they should understand how their work fits into a broader SEO picture. 
In a similar vein, SEOs should also adopt a multidisciplinary approach, understanding core ideas in marketing, sales, web development, project management, and workplace psychology. In addition, they should pay special attention to how these areas relate to overall company goals.
Employees have finite time, but a basic understanding will make communication and collaboration possible and foster a mutual respect for the talents and skills of colleagues. In the long-term, this is a far more cost and time-effective approach. 
Many are surprised to learn that an enterprise SEO platform can fulfill this objective. For example, Brightedge provides a professional certification program that scales across an organization and ensures teams have the necessary skills to interpret insights and make optimizations where necessary.
5. Use a Well-Structured Core SEO Strategy
A well-structured SEO strategy that accounts for different domains of expertise and disciplines acts as a unifying framework for collaborative efforts. 
An organization's high-level SEO plan still comes from the SEO department. This almost sounds obvious, but it needs to be stressed. And many tasks should remain as the sole responsibility of SEOs. Don't imagine that you'll be explaining hreflang tags or schema markup to eagerly listening content creators anytime soon. 
A flexible, detailed and measurable SEO program that clearly indicates where collaboration is required acts as the crux of an inter-departmental, democratized approach.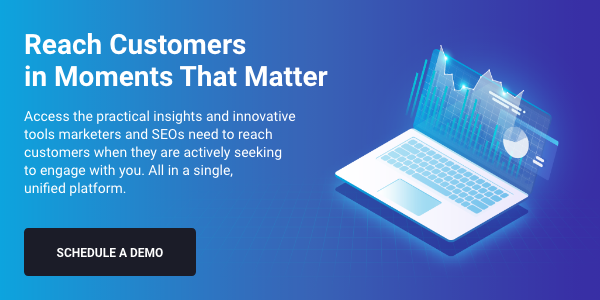 Conclusion
SEO democratization represents a broader trend in the corporate space. Departments no longer operate as islands—it's inefficient and detracts from the overall customer experience. 
Successfully democratizing your SEO activities will give you a competitive edge and allow you to respond more quickly to evolving algorithms and shifting customer behaviors and needs. 
An inclusive platform like BrightEdge enables you to coordinate the various aspects of a democratized SEO strategy. We provide tools for performance tracking beyond traditional SEO metrics, a content management platform, integrations with other apps, and more. Get in touch to arrange a demo. 
More Resources
[ad_2]

Source link